Discover The Art and Science of Love at our world-renowned weekend workshop for couples presented by David Mark, MS, LCSW, Certified Gottman Therapist.
2 days filled with engaging presentations and experiential activities designed to confirm, strengthen, or restore your love
For couples of every age, ability, and sexual orientation
Shown to achieve results similar to those of 6 months of marital therapy
Produces positive results for 86% of those who attend
Based on over 40 years of research with thousands of couples, The Art and Science of Love workshop will give you new insights and research-based skills that can dramatically improve the intimacy and friendship in your relationship and help you manage conflict in a healthy, positive way. Along with the memory of re-connecting and the knowledge that "we can do this," you will take home a box set of cards, tools, and tips to support your relationship in your everyday lives.
---
THE WORKSHOP PROGRAM
In a word: Science! Our curriculum is developed from 40 years of research with more than 3,000 couples. It's grounded on what actually works in relationships that are happy and stable, not idealistic notions or anecdotal evidence of what marriage ought to be. The workshop produces positive results for 86% of those who attend based on exit surveys, but don't just take our word for it. Click here to read one couple's story, "15 Favorite Moments from our Gottman Weekend Workshop."
This workshop is designed for ALL couples in a committed relationship.  If you have a strong relationship, this workshop will provide you with insights and tools to foster further closeness, friendship, and trust. If your relationship is distressed, this two-day workshop will provide you with a greater understanding of your relationship and a road map for repair. No public discussion or disclosure is involved.  All work is done as a couple and Gottman trained therapists are available to support one-on-one during exercises.
Already attended? Refresh your skills and deepen your understanding of the Gottman Method at The Art and Science of Love 2 advanced workshop for couples.

As a result of this workshop, you will learn how to:
At the workshop, you'll learn how to: foster respect, affection, and closeness; build and share a deeper connection with each other; keep conflict discussions calm, break through and resolve conflict gridlock; and strengthen and maintain the gains in your relationship.
Workshop topics include:

Learn to recognize the Four Horsemen of the Apocalypse and what to do if they are attacking your marriage
Identify your relationship's specific strengths and how to build on them
Learn about the effects of physiological flooding and how it may affect conflict resolution
Use the Fondness and Admiration System to renew respect and care for one another
Create an Emotional Bank Account that you can draw upon in times of stress
Develop your problem-solving skills, including the 6 skills for effective conflict resolutions
Find out how you can make your dreams and aspirations come true for you, your partner, and your relationship
As a result of this workshop, you will receive:
In addition to a greater understanding of how to build friendship, manage conflict, and create shared meaning in your relationship, you will receive a box set, which contains: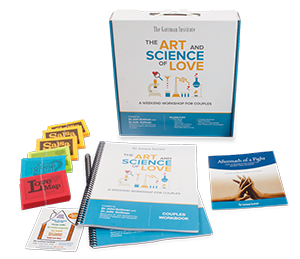 7 Card Decks

Love Map
Opportunity
Open-Ended Questions
Rituals of Connection
Salsa (Mild, Medium, Hot)

2 Couples Workbooks
Repair Checklist
Aftermath of a Fight Booklet
Sound Relationship House Magnet
Can we attend the workshop even if we aren't married?
Yes! Couples workshops are open to ALL couples.
We are happy and in love. Why should we attend a Gottman Couples Workshop before we get married?
Start early. Get your relationship off to a healthy beginning and keep it healthy. The average couple waits six years before seeking help for marital problems (and keep in mind, half of all marriages that end do so in the first seven years). This means that the average couple lives with unhappiness for far too long.  Learning the skills that masters of relationships have taught us will improve your ability to communicate through conflict, and deepen intimacy and your connection with your partner.
Can I come to the workshop alone if I can't convince my partner to attend?
Sorry, no. Our workshops are specifically designed to be interactive and experiential for couples only.
How can I convince my partner to attend a workshop/go to counseling?
I'd love to come to your workshop, but my partner is a private person and is not comfortable sharing in a group setting. We don't want group therapy. Do we have to share with the other couples?
Though the lecture part of the workshop is done in a large group, all workshop exercises are performed with your partner only, and at no time are you asked to interact with other couples.
There is no small/large group work, and no mandatory sharing or public disclosure. We utilize several rooms in order to provide enough space for all couples to work privately on their relationship, implementing the new skills and techniques being taught. Our Certified Gottman Therapists are available to work one-on-one with couples who desire assistance.
Are we appropriate for your workshop if we don't have any really huge problems?
Yes! Couples who attend our workshop tend to fall into two categories: enhancement and repair. We applaud couples who are wise enough to attend the workshop for enhancement purposes. Feedback from both enhancement and repair couples indicates that the copules workshop is very beneficial.
Would it make sense for us to attend your workshop if we are already separated or in the process of divorce?
While each situation is unique, we do have many couples attend the workshop who are separated or have begun divorce proceedings. These couples continue to report that the workshop was very helpful to them. Our staff will discuss the specifics of your situation with you during the registration process.
Should we read The Seven Principles for Making Marriage Work before attending?
The workshop is self-contained; no pre-reading is required. Some couples report that reading The Seven Principles enhanced their workshop experience by providing a foundation in the research concepts and applications.